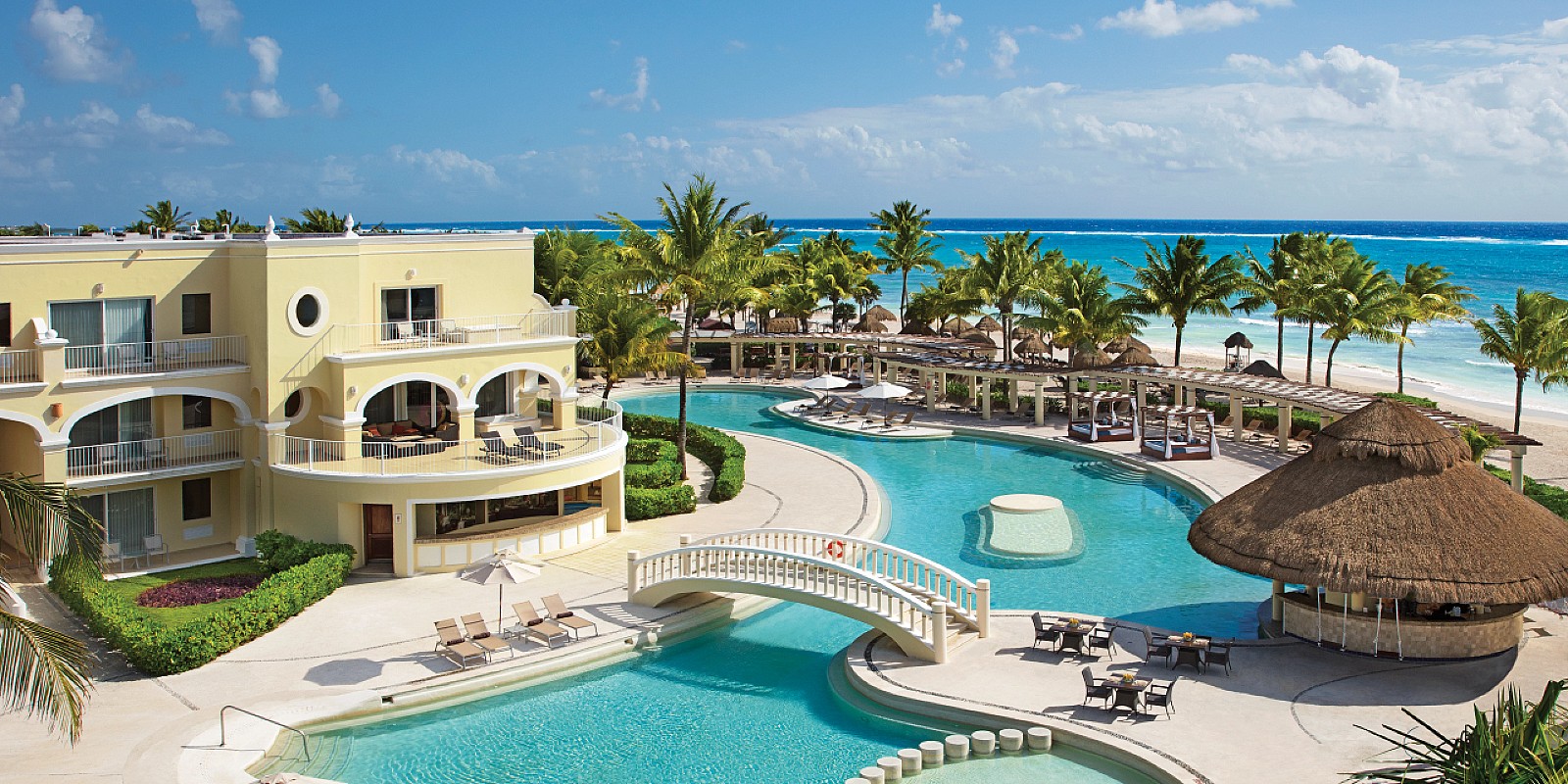 From ancient ruins to modern sustainability mantras. Dreams Tulum Resort & Spa will dazzle your tribe.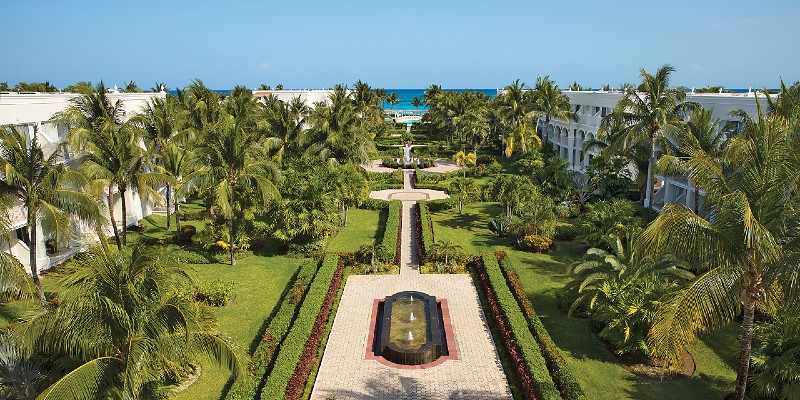 Getting a family escape to the Caribbean on the books is always a good idea. However, staying at Dreams Tulum Resort & Spa, Mexico upgrades it from a good idea to a no-brainer. 
In this blog, we'll list all the reasons why you should definitely be thinking about this resort, and Tulum in general, for your next break. 
But, before all that, let's give you a brief resort overview so you know how the land lies. 
---
Introducing Dreams Tulum Resort & Spa
At this incredible haven of luxury, leisure, lounging and liberation you can get up to, pretty much, whatever you like. And that's part of the reason people keep flooding back. 
With a couple of pools, a fitness centre, a decadent spa, and more restaurant and bar options than you can shake a stick at. As well as being near to some of the best things to do in Tulum. This place has something for everyone. 
But allow us to break all that, and more, down for you as we take a look at everything this place has to offer in more detail. Here are all the reasons you should pay a visit. 
---
Reasons to get booked-up
It's a five-star escape
Beachfront oasis
Unlimited-Luxury® privileges
Stunning rooms
Choice of nine restaurants
Seven bars
Stay and play options
Incredible Spa by Pevonia®
Sensational diving
Wicked water sports
Historic location
Engaging kid's club and new water park
Selection of incredible excursions
Green fees paid at two leading golf courses
Close to Xel-Ha
The green dream
---

---
1. A five-star escape
It will probably come as no surprise, with all those incredible amenities, that Dreams Tulum Resort & Spa is a five-star hotel. 
However, what may not be as well known is that it's also a favourite with the resort boffins over at TripAdvisor. In fact, the resort has won the eponymous travel review app's Certificate of Excellence twice, as well as a Traveller's Choice award all in the last 4 years.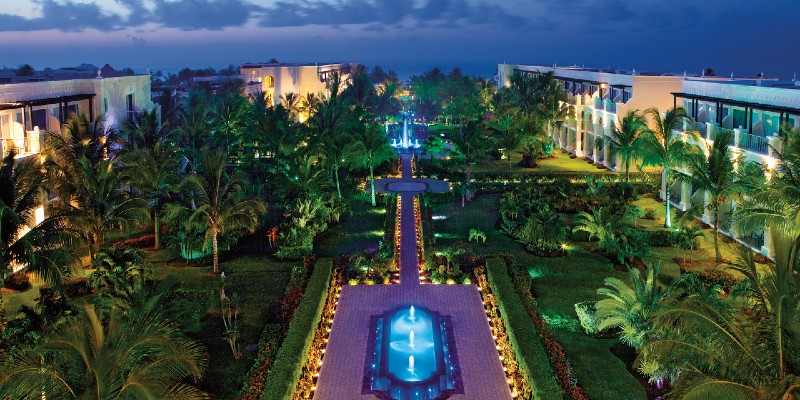 ---
2. Beachfront oasis 
Adding to those awesome accolades is the resort's picture-perfect location. We'll get on to what it's locale means for points of interest in a second, but first we need to talk about the beach. 
The five-star haven finds itself stretched out on a gleaming strip of white Caribbean sand. The Riviera Maya coastline is a true thing of beauty and here it's right on your doorstep.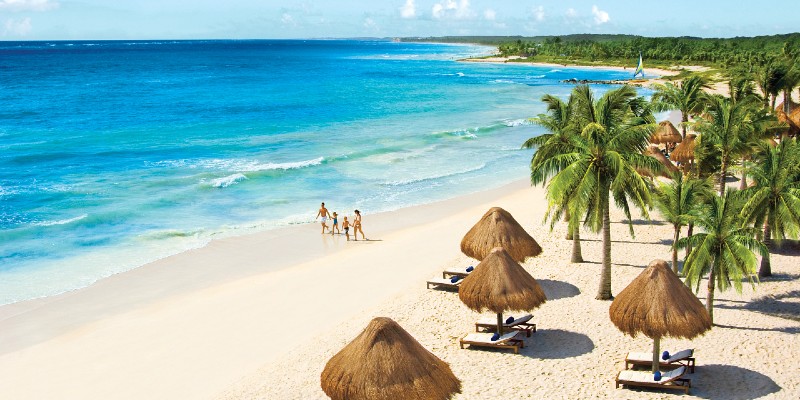 ---
3. Unlimited-Luxury® privileges
The Unlimited-Luxury® concept is exactly what you'd expect from a service dubbed "unlimited luxury". There's no wristbands, unlimited drinks and room service, themed parties and so much more. 
All you need to do to be a part of the enhanced inclusions is upgrade to a Preferred Club suite. The Preferred Club is an elevated range of suites and villas which, as you can imagine, spare no expense when it comes to amenities. 
Unlimited-Luxury® and Preferred Club upgrades, what more could you want?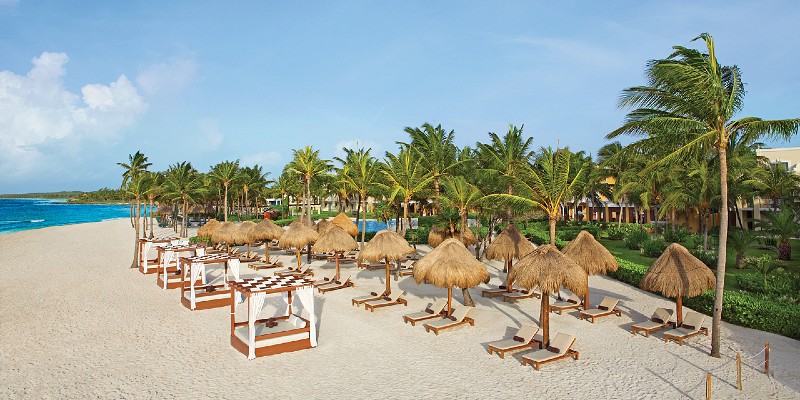 ---
4. Stunning Rooms
You know we're talking about an awesome resort when we've got to point 4 of a 15-point benefits list and we haven't even talked about rooms yet. 
Over 430 rooms make up the facilities at Dreams Tulum Resort & Spa. Within those rooms, you'll find a world of luxuries, even at the entry level. Each room offers spacious interiors, marble bathrooms, expansive balconies which stare out on incredible views, and unlimited wifi. 
Plus, there's also the option to connect rooms and suites together. So if you're travelling with a group for a special occasion, why not group some rooms together to create a penthouse vibe. 
---
5. Choice of restaurants
As you move out of your room, you may be getting peckish. Another great thing about Dreams Tulum is the fact that there's so much choice when it comes to meal times. 
The 9 restaurant options also cover a plethora of cuisines. So if you've got a hankering for some sumptuous Italian pasta, delicate French flavours, or bold Asian notes, you don't have to compromise. 
---
6. 7 Bars
As with the restaurants, there's a world of choice for keeping your thirst quenched too. From chilled-out beach bars for refreshers in the sand to elegant cocktail bars. You can relax your way.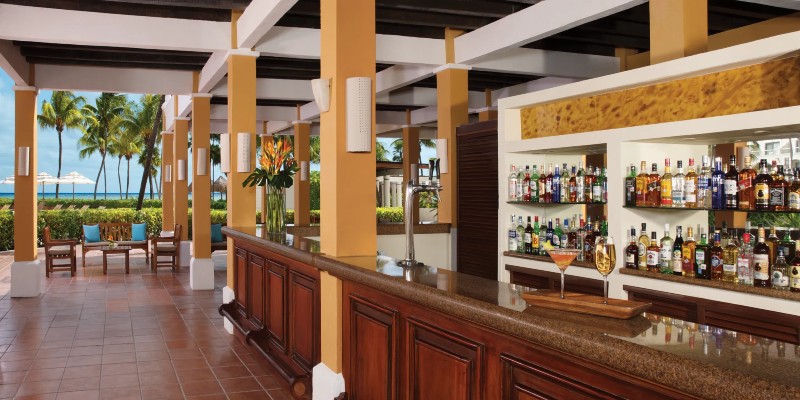 ---
7. Stay at one, play at many 
But if that wealth of restaurant and bar options isn't enough for you, there's even more to enjoy. One of the great things about Dreams Resorts is that they offer you the chance to explore the facilities at their local sites too. 
When you book all-inclusive, the Sip, Savour & See programme allows you the chance to try the amenities at different Dreams resorts in the area.
---
8. Spa by Pevonia®
What's a stunning five-star escape without an incredible spa, amirite? 
Well, Spa by Pevonia® knocks the incredible-o-meter out of the park with a host of amazing in-house amenities. Hydrotherapy and beauty salons, as well as 12 interior treatment cabins, including couples rooms, and Jacuzzis.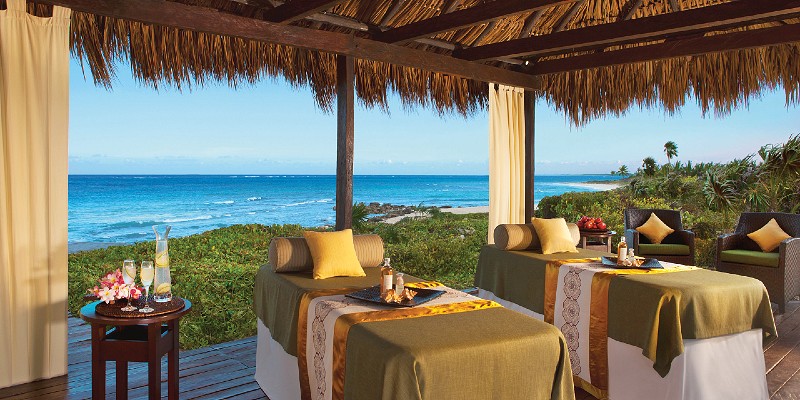 ---

---
9. Sensational diving
Dreams Tulum boasts its own Dive Shop, such is the quality of the underwater conditions in the area. You can visit the shop to book in diving trips to the local reefs or cenotes. 
On the other hand, snorkelling might be more your flavour. If so, you can grab some gear from the store and head out in search of some mesmeric underwater creatures.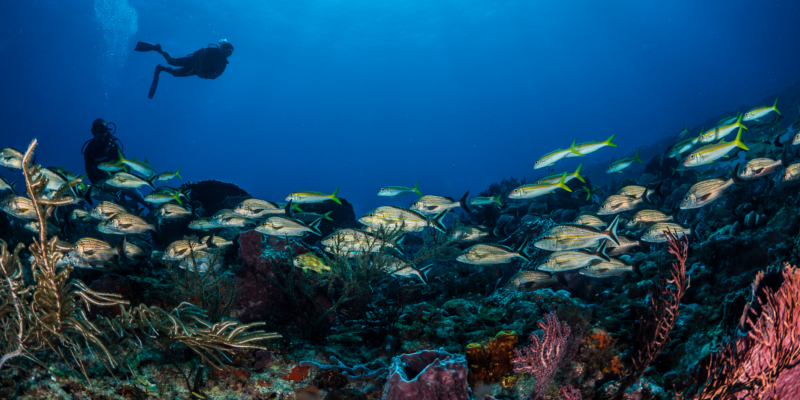 ---
10. Wicked water sports
Staying with the watery theme, for now, you don't have to have to dip below the surface at Dreams Tulum. If you'd prefer to remain topside there are kayaking, canoeing, and catamarans to get involved with.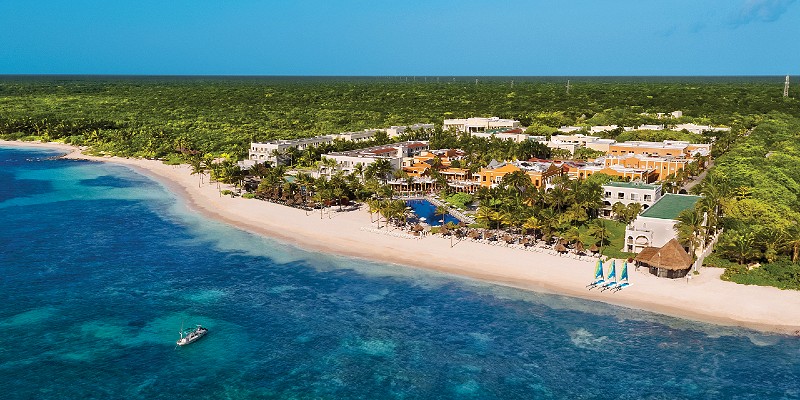 ---
11. Historic location
Just minutes from Dreams lies the incredible destination of the Tulum Archaeological Zone. The ruins at this revered site date back as far as 564 AD, three temples on the site are dedicated to ancient gods. 
You should also check out the Temple of the Frescoes where a number of murals depict a collection of supernatural beings residing in the Underworld. 
Our competition winners The Baileys loved getting to know the ancient ruins. 
---
12. Kid's Club and water park 
As we said at the start of this thing, Dreams Tulum is a family-friendly resort. So, if you're a family-friendly resort, then you need to have an amazing kid's club . 
That's why the resort has the Explorer's Club. This purpose-built facility has everything your little ones need to have an amazing time. From friendly staff who lead a schedule of informative and engaging playtime to an amazing water park that will leave them wide-eyed. 
In addition, the Core Zone Teen's Club offers an array of activities, sports, and games chosen specifically for the family's toughest critics. Although, if you want to get out and see more of the areas with the little ones, there are some amazing family-friendly activities in Mexico. 
---
13. Incredible excursions
From discovering some of the best natural attractions in Mexico to exploring wonders of the world like Chichen Itza. There's a universe of choice when it comes to getting out and exploring. 
The resort's selection of excursions offers you the chance to see more of this enchanting location.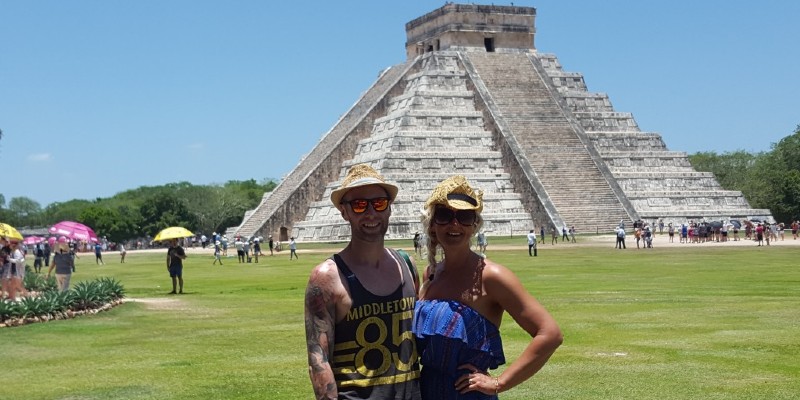 ---
14. Green fees paid
The sports enthusiasts in your group will love the fact that you can work on your swing and your fees have already been paid. 
Riviera Maya Golf Club and El Camaleon Mayakoba Golf Course are two of the most stunning courses in Mexico. The latter was, in fact, designed by golfing legend and world-renowned professional course designer Greg Norman. 
Don't tell us you're going to pass up this opportunity!
---
15. Experience Xel-Há
The penultimate point on our reasons to book-up Dreams Tulum Resort & Spa is your proximity to one of the best adventure parks in Mexico. 
If you love getting out and exploring the thrill of an adventure park, then Xel-Há is the place for you. From river tours to ziplines to jungle tours there's something for everyone in this awesome adventure park. 
---
16. That green life
Our final resort bonus is a huge one for sustainability-focused. If you were looking for tips to becoming a more eco-conscious traveller, then staying at Dreams Tulum is a great place to start. 
In fact, the resort is so green it boasts Rainforest Alliance Sustainable Tourism certification. This accreditation celebrates the resort's commitment to using locally produced products helping to stimulate the local economy. Plus, they also have a robust in-resort recycling policy.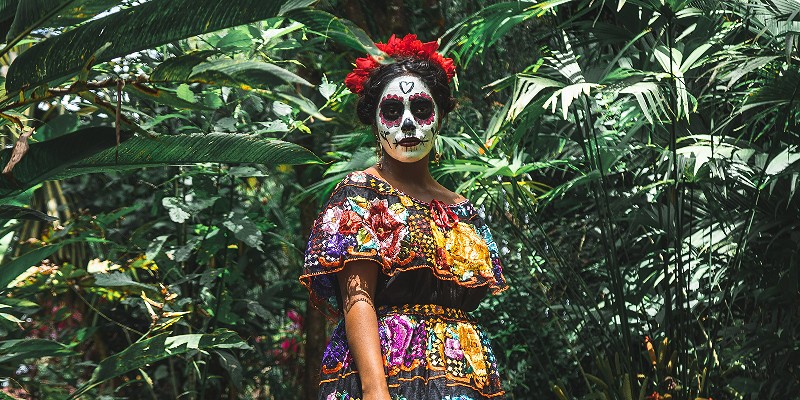 ---
Get yourself there
We could probably go on and find even more reasons to get yourself to Dreams Tulum Resort & Spa. But we think 16 reasons are probably enough. 
All you need to do now is get out there and start experiencing the beauty of Tulum for yourself. Click the button below to build your free online Dreams Tulum Resort & Spa quote today.