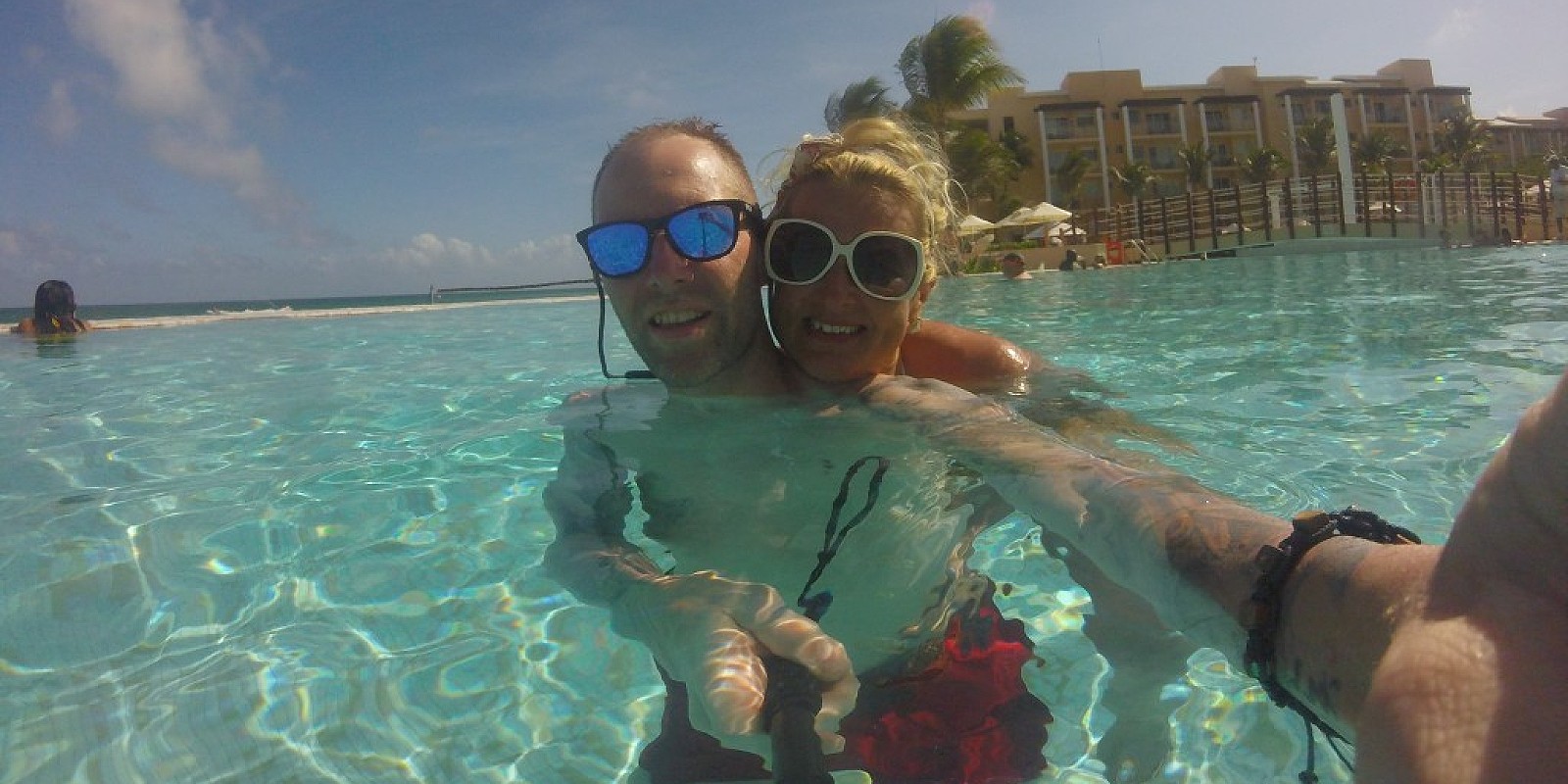 Our recent holiday competition winners the Baileys got the chance to explore Mexico after scooping our top prize. Here's what they got up to.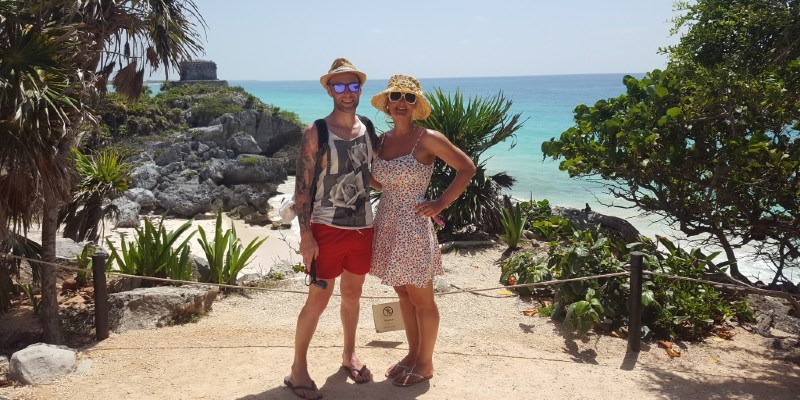 Previous Blue Bay holiday competition winner Alan Bailey was over the moon to discover he'd scooped a 7-night stay at the wonderful Now Jade Riviera Cancun (now Dreams Jade Resort & Spa).
Keen travellers, Alan and his wife Caz packed their bags and used the free stay to embark on an incredible Mexican odyssey. 
In this blog, we'll travel with the Baileys to find out how much adventure they managed to cram into their 7-night prize. Over toAlan! 
---
You can enter another holiday competition just by voting for Blue Bay in the British Travel Awards

---
More About The Baileys
We came to overseas travel very late in life after having a young family. We travelled the UK camping for many years with youngsters in tow and created great family memories.
But, now our children are grown up, we decided to get a passport and broaden our horizons by exploring the wider world. Following holidays in Cuba and Barbados, Mexico was next on the list. However, a few unexpected bills surfaced so the plan was on hold for a couple of years.
That was until we got an email from Blue Bay Travel to say that we'd won a holiday… to Mexico! Our prayers had been answered. My wife, Caz, was ecstatic because, like me, she knew we had no chance of getting to Mexico anytime soon. Until now.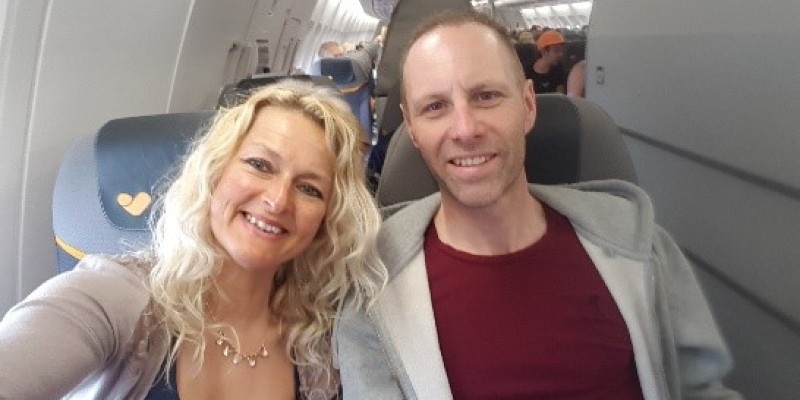 ---
Time to prep
From the moment we won the holiday competition we went into holiday planning mode. When we go away we like to see as much of the destination as we can. 
So, we got to work researching local restaurants, points of interest, day trips, as well as the best things to do in Riviera Maya. 
As the trip got closer we started to arrange airport hotels, but Blue Bay were great at sorting out all the pre-holiday stuff too. Whenever we needed someone to lend a helping hand or want some advice, they were there. 
---
Day 1 – Arriving in Paradise and Resort Overview
After reading reviews, we had big expectations for the hotel and not only did it live up to the hype, it exceeded it.
Even though we were holiday competition winners, on arrival we were still treated like royalty. A cold sparkling drink and a cool face cloth were simple things, but after 10 hours in the air, they were more than welcome.
These touches set the tone for Dreams Jade from the off. The first thing we did was the obligatory walk around the hotel. Put simply, the resort is stunning. I think it's possibly the cleanest hotel we've ever had the pleasure to stay in.
---
Prime location 
Another thing we loved about the resort was its coastal location. It's pretty much central to the best things to do in Cancun, yet far enough away from there and Playa Del Carmen to feel private.
We'll get to all our adventures in a minute, but when we just fancied some time to ourselves, the resort had that covered too. Lots of pools and the beachfront location made it easy to relax.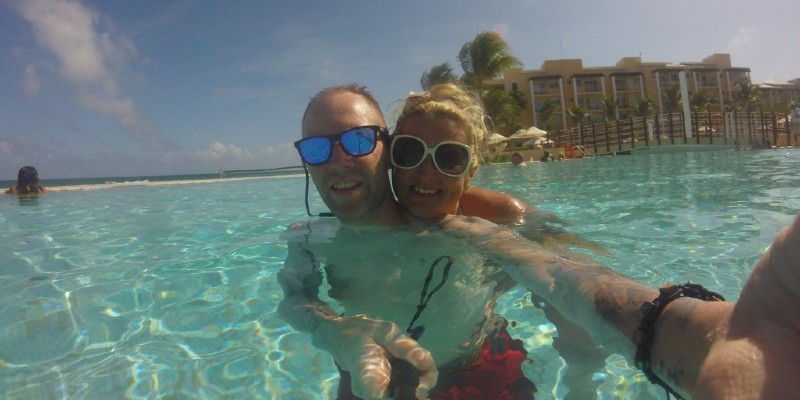 Evening entertainment and food
Mexico being Mexico, travelling out of the hotel isn't as easy as somewhere like Bridgetown in Southern Barbados (for example) where entertainment is on the streets around the hotel.
That said, we didn't feel as though we missed anything by stopping at the resort in the evenings. With 9 restaurants and 6 bars to choose from, as well as a 24-hour coffee shop with great cakes, you really have it all when it comes to top food.
The Asian teppanyaki restaurant, Spice, is particularly good and super entertaining with the live cooking shows. Elsewhere, there is entertainment in the hotel theatre every night. Plus, the main bars in the lobby are regularly buzzing with live music acts.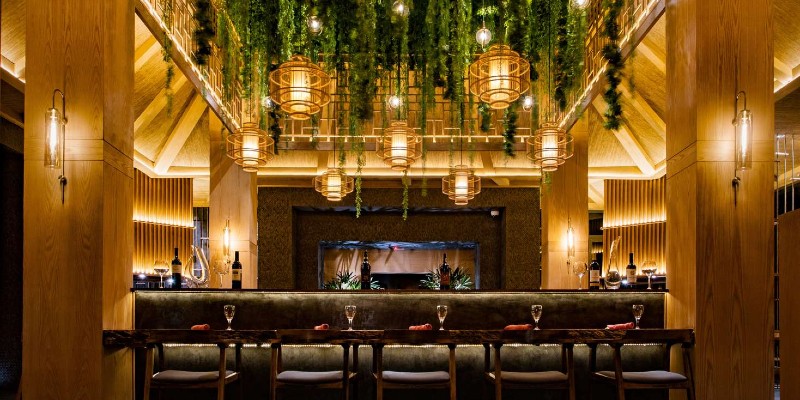 ---
Top Tip
The resort is located in the quaint fishing village of Puerto Morelos. For a different experience there are some amazing snorkelling conditions to explore here and some nice bars and restaurants available in the evenings.
---
Day 2 – Exploring Playa Del Carmen and Akumal
After spending our first day in the resort soaking up the 37-degree heat by the pool, we decided to head down and check out to Playa del Carmen.
Travelling around Mexico is super simple. Taxis are one option, but we found that the local buses give you a better feel for the country. Plus, they're much cheaper too.
For those who don't know, there are two types of bus in Mexico. The ADO buses will take you anywhere along the coastal highway 307 for about £1.50 (it may be a bit more now). On the other hand, if you've been to Barbados and travelled on one of the bouncing ZR buses then you should definitely check out the Collectivos buses. These will pick up and drop off anywhere for about a quid.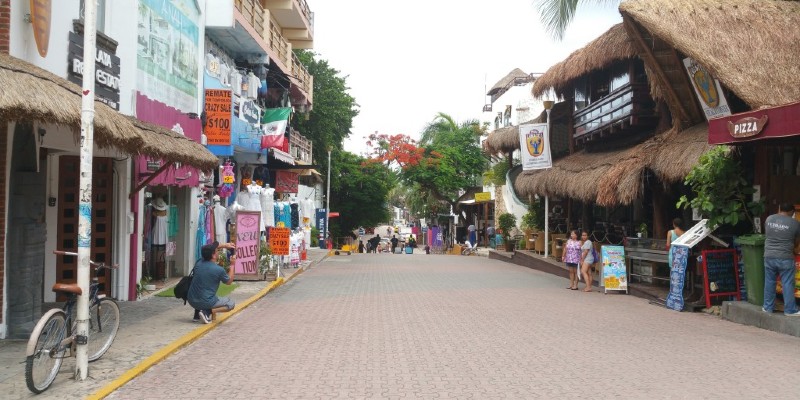 Playa del Carmen
Lots of people recommended we visit Playa del Carmen, so we caught a Collectivo and headed out. The bus station itself is virtually on the main street so you're pretty much in the thick of it straight away.
Once on the main street, there is a huge selection of boutiques, gift shops, bars and restaurants to choose from. The whole street runs parallel with the beach so if it gets too hot then just nip over for a quick dip. At either end of the main street await modern shopping complexes with commercial stores including H&M, Hollister, Nike, Pull & Bear etc. and I found them to be a little cheaper than the UK.
As you get closer to the beach there is lots of entertainment making for a really good atmosphere. All in all, the main street is a really nice place to stroll around and soak up the atmosphere for an afternoon.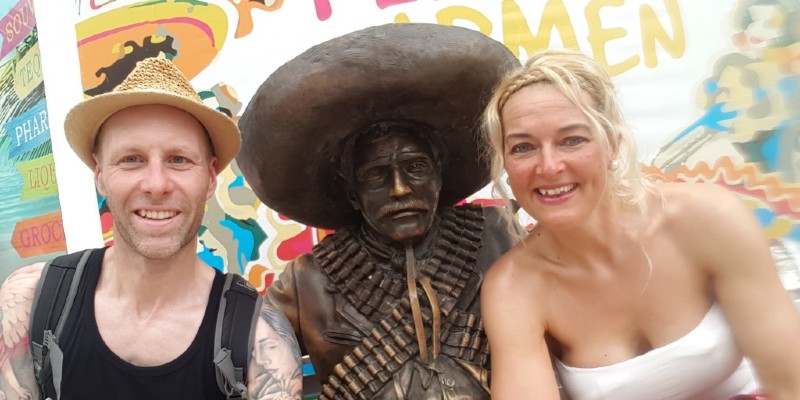 ---
Akumal
Part of the adventure for us when we getaway is discovering spots off the beaten track. While Akumal is in no way a quiet spot, it's not highly promoted in travel guides either.
As with all the places along the coast, you get off the bus on the highway and then walk to the beach. Akumal is a hot spot for turtle watching. As you enter the beach area there are life jackets and snorkels to hire should you wish. The beach really is a beautiful spot.
Because it's set in a bay, you don't get the choppier waves that you can sometimes experience in other areas. Plus, the further south along the beach you walk the nicer and quieter it gets. Perfect for catching some secluded beach time.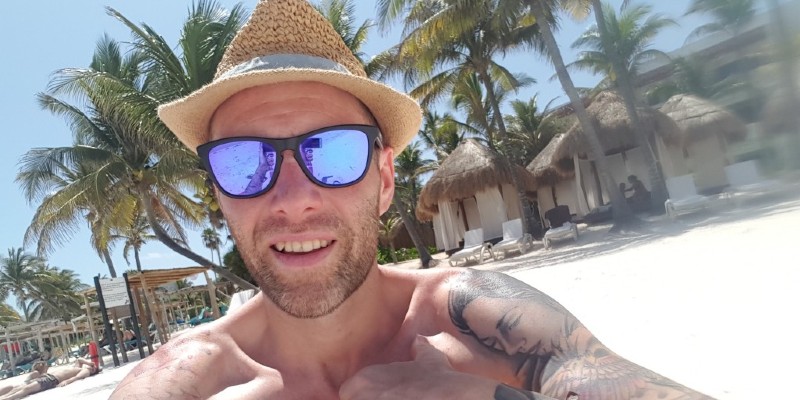 ---
Day 3 – Chichen Itza and the Cenotes
Back when we first discovered we'd won this holiday competition, Chichen Itza was right at the top of our must-see list. We'd also heard incredible things about the Cenotes as an awesome natural attraction in Mexico. 
Chichen Itza
We booked this excursion before we left the UK, but you can book it while you're away or even just turn up and go in like any other attraction.
We would highly recommend having a guide on your tour. Ours was fantastic and he really made a difference to our experience. He was a fountain of knowledge about the area and the ancient civilisation. 
Although you can no longer climb the actual main pyramid, you still get a sense of the enormity of it and its cultural symbolism by simply walking around and being in its presence. It really is a sight to behold.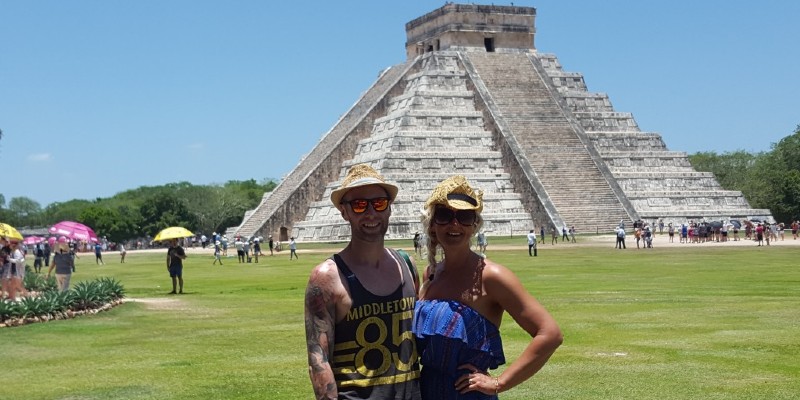 ---
Top tip
It's hot, hot, hot at the site of Chichen Itza and there's little shade. So go prepared with plenty of sun protection and water.
---
The Cenotes
Something that we just had to check out was the Cenotes (pronounced: sen-oats). We'd read loads about them on the internet and thought this would be a great adventure.
Cenotes are super-deep freshwater pools dotted around the landscape. Because they're freshwater, the pools are really cold too. But jumping off a large rock face into a cenote is a must. We explored lots of cenotes during our trip, but Cenote el Jardin was our favourite. It was incredibly scenic and there were lots of rocks to jump off. 
They can be found all over Mexico with plenty of opportunities along the main highway between Cancun and Playa del Carmen. You may want to buy diving shoes before you go. They will help protect your feet on the rocks around the pools and stop you from potentially slipping on the wet stones.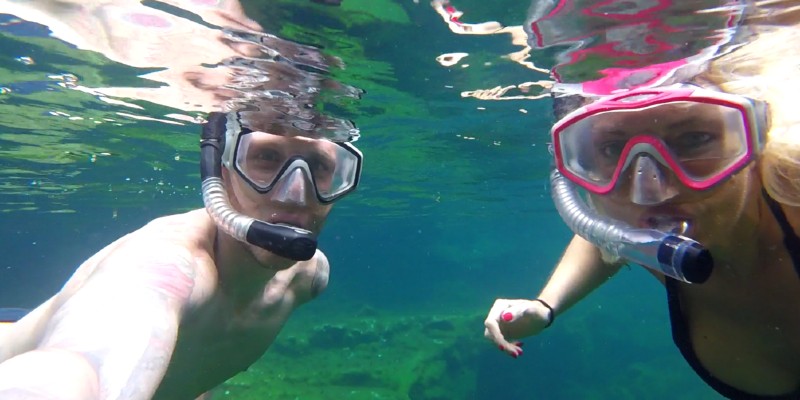 ---
Day 4 – Xel-Ha and Coba
There are lots of amazing water and adventure parks in Mexico which are designed to deliver fun for all the family. We decided to tag our experience of one together with our trip to Coba. 
Making a splash at Xel-Ha
As soon as you enter Xel-Ha you realise the park is so big and there is so much to see, so it never actually feels crowded.
It's really well marked out and the professionalism across the site is on par with any theme park back home. Activities include white water rafting and huge zip wires into freshwater lakes. The zip lines were on the top of our list, along with some more cliff jumping.
We arrived at Xel-Ha around lunchtime so it was a good thing that we were spoilt for choice as we were pretty hungry. The buffet restaurants are incredibly decorated with literally every type of food you can think of.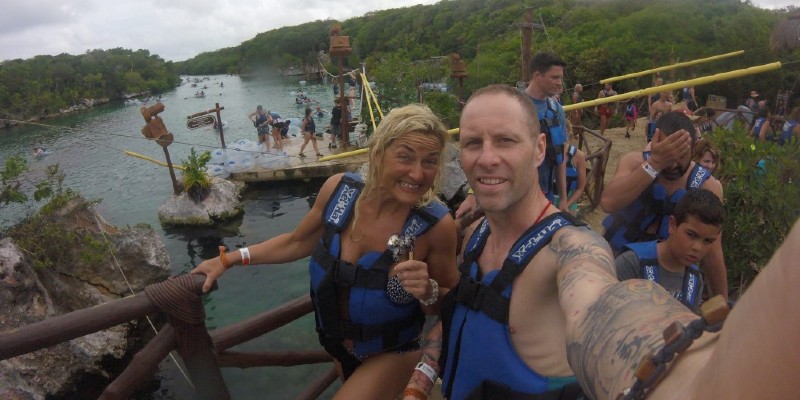 Coba
Coba is another ancient Mayan site, but it's a completely different experience to that of Chichen Itza. Plus, you can still climb the main pyramid here.
The Coba site is a couple of hours by bus from Dreams Jade. But it's an incredibly authentic, un-commercialised historical site. When you get into Coba you are given a mountain bike to travel around the site on as it's so vast it would take ages to walk around. You stop along various points of the track to hear the significance of that particular part and then continue cycling along.
After about 20 minutes of cycling you enter a large clearing where the main attraction is nestled like a giant amongst the tree canopy. The Coba pyramid. You get a sense of its significance in the Mayan landscape just from the forest floor and that's before you've even begun your ascent.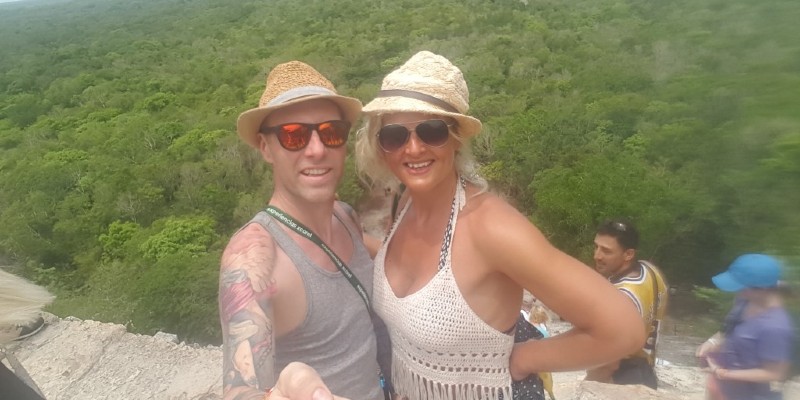 ---
Day 5 – Tulum and Isla Mujeres
Moving into the latter part of the trip we started to mix more relaxation and resort time into the trip. After all, we had won a holiday competition so it would be rude not to stay there for a while. 
Having said that, we still managed to get out and explore two more beautiful places we'd heard so much about; Tulum and Isla Mujeres. 
Tulum
There are so many amazing things to see and do in Tulum, but the main event has to be the ancient ruins. Various tours and excursions are available to discover the antiquated site. But we found the easiest (and perhaps more exciting) way is to just catch a bus and get off in Tulum.
It's just that little bit smaller than Chichen Itza and you can get a lot closer to the structures. As always, the official tour guides are full of useful information about the history of the site.
All of the buildings have been restored and protected and the views from the cliff are amazing. The photo and selfie opportunities are endless!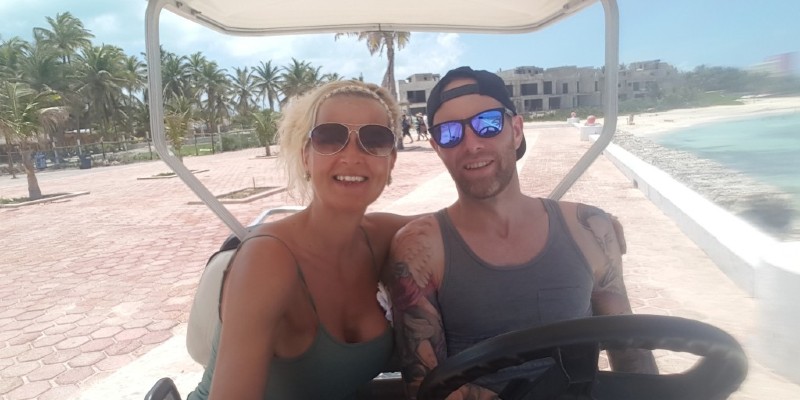 Isla Mujeres
Visiting Isla Mujeres is one of the best things to do in Playa Mujeres. You can get a boat over to the action-packed island from Cancun. When you step off the ferry in Isla Mujeres it can get busy on the waterfront. We'd recommend hiring a golf buggy. Because the island is so small, cars aren't practical for getting around. But if you hire a golf buggy for the day, you can explore the island to your heart's content. 
Isla Mujeres is made up of a stunning coastline on the east and south with ocean views to die for. You then have the hustle and bustle of the west coast beach home to all of the shops. If you ride down to the south tip of the island there's a lovely café to chill out at for an hour and take in panoramic views of the island.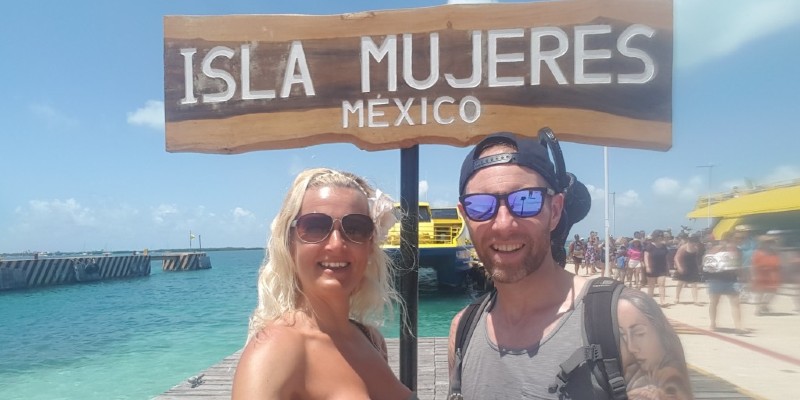 ---
It Could be You 
Our latest holiday competition is live now. So, if you want to experience the same shock and excitement the Baileys did, click the button below to enter. 
The only difference with this competition is that there are even more chances to win! With the top prize being a five-star stay in the Maldives. As well as over £1,000 of Amazon vouchers available throughout the summer. 
What are you waiting for? Enter now!