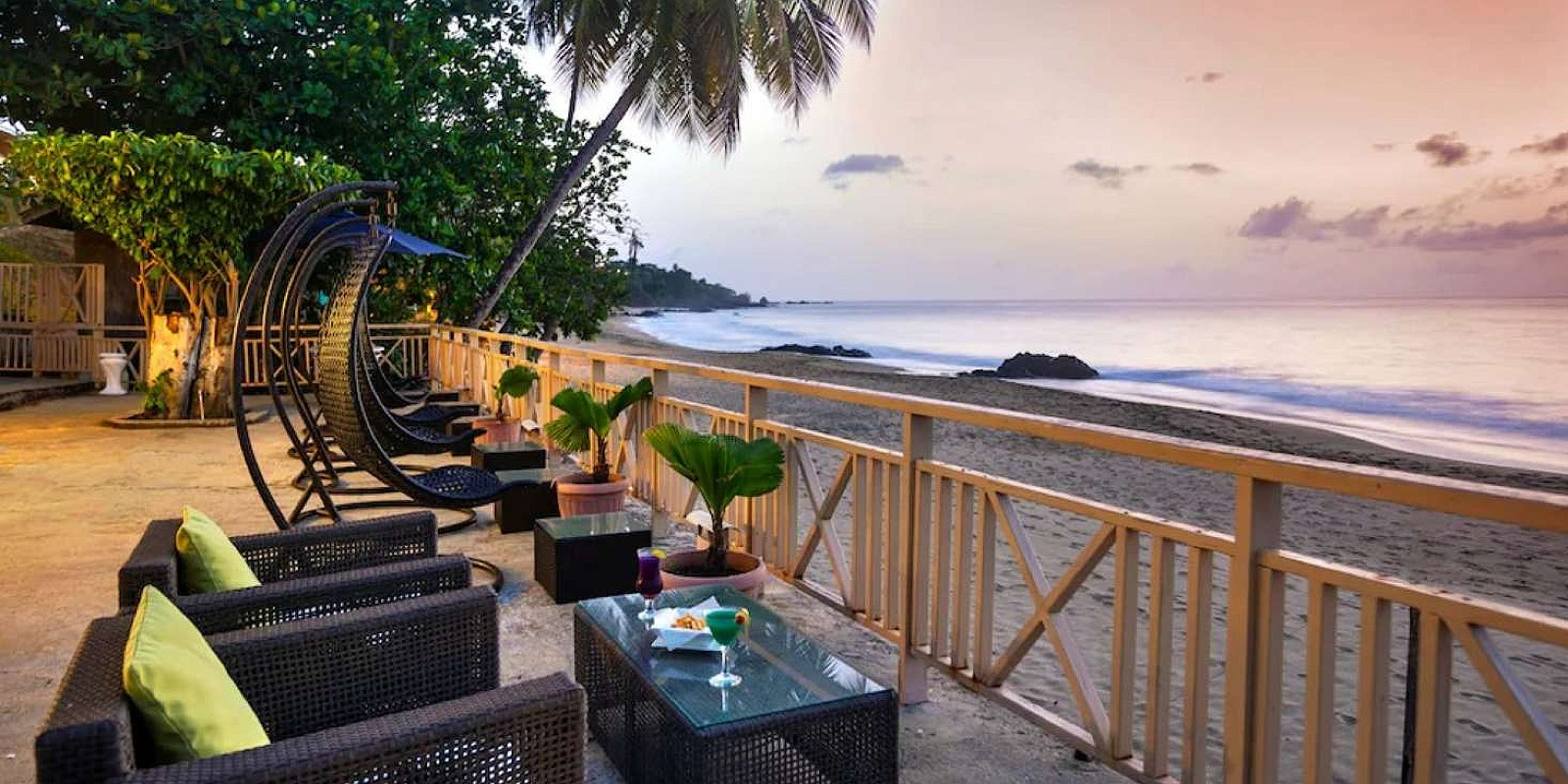 We'll show you how to minimise the cost of your Caribbean escape with Grafton Beach Resort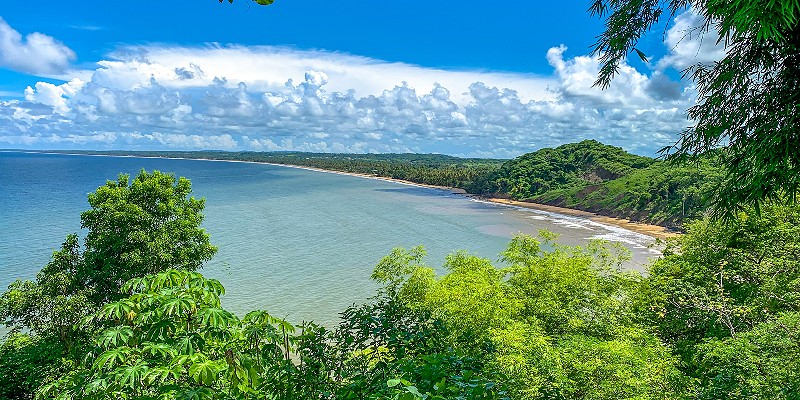 You might think that getting a Caribbean escape on the books has to cost an arm and a leg. But Grafton Beach Resort in Tobago proves that's a load of tosh.
Times are tight at the moment, but we all still want to be able to get away and make unforgettable memories. So, how can you live that frugal life, but still top up your tan in one of the most gorgeous places on earth?
We're about to tell you!
---

---
How to Book The Caribbean For Less
What if we told you that you can hit up the famous sunny shores for under £2K? Unbelievable, right? Well, you'd better start believing it. Because we're about to show you how.
The star of this particular show of getaway frugality is Grafton Beach Resort, Tobago.
Based on our current all-inclusive offer, an island escape for two in May could come to just £1,997. That's including 23kg luggage allowance, in-flight meals and drinks, as well as resort transfers.
Then all you need to worry about is what shorts you're packing. But why don't we tell you a little more about the resort and outline what exactly is included in that all-inclusive offer.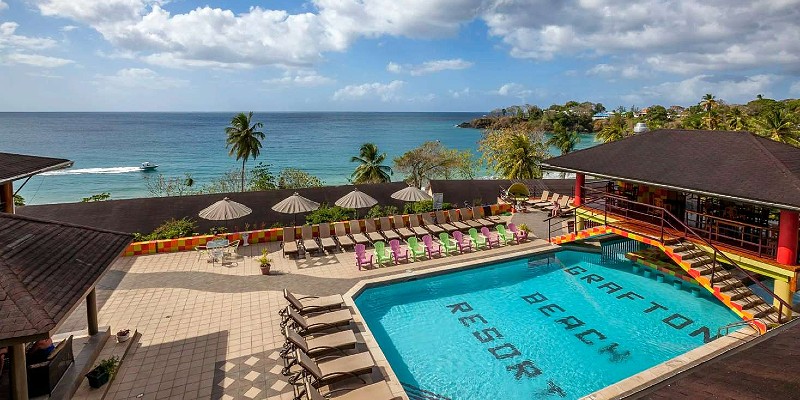 ---
Resort and Offer Overview
If you're looking for an authentic, secluded and tranquil island experience, then Grafton Beach has you covered. It may be a three-star resort, but it packs one hell of a dreamy Caribbean getaway punch.
From its beachfront perch, the resort boasts 2 pools, 3 bars, a spa, a fitness centre, and a raft of water sports opportunities. So, you can slow down or speed up your trip whenever you like.
As part of our exclusive all-inclusive offer, you'll be upgraded to an Ocean View Room, as well as enjoying a free treatment in the Le Courlan Spa.
---
Where is Grafton Beach Resort?
Grafton Beach Resort finds itself nestled serenely in the lush green hills overlooking Stonehaven Bay, one of the most incredible beaches in Tobago.
You can choose to stare out into the enchanting blue of the Caribbean Sea from the comfort of the main resort pool. On the other hand, why not explore every grain of the mile-long stretch of sand in front of you on foot?
When you've finished your explorative mission you can always retire to the restaurant and try a selection of Caribbean-inspired culinary classics. The Oceanview restaurant's beachfront location means you won't have to stray far from the sand while you enjoy delicious authentic island fare.
---

---
Is Grafton Beach a Good Resort?
The majority of people holidaying in Tobago are looking for a more stripped-back, relaxing Caribbean experience. If that's what you're after, then you'll find it here.
Okay, so three-star Grafton Beach Resort may not qualify as all-out luxury. But the main pool area is immaculate, the rooms are comfortable, and the stunning beach is right on your doorstep.
In addition, it's a perfect base for getting out and seeing more of the island. If you came here seeking more info about the island and the best things to do in Tobago, then you will be extremely happy.
So let's tell you more about what there is to do here.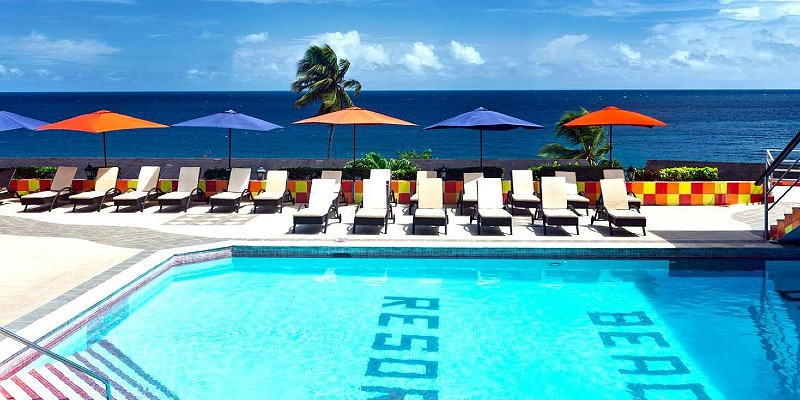 ---
What About Restaurants & Bars?
Dining at Grafton Beach Resort is a relaxed affair. The main Oceanview restaurant does what it says on the tin. Delivering international favourites, buffet-style, while you enjoy stunning Caribbean Sea views.
However, if you prefer more variety in your evening meal scene, then why not get out and explore some local eateries too – you can use some of the money you saved on the booking!
Grafton Beach's positioning means you're within walking distance from 3 of the top 5 restaurants on the island, as ranked by TripAdvisor.
The Edge Of The Reef, The Fish Pot, and The Seahorse Inn occupy number the 1, 3, and 5 spots on the rating app's countdown. None of which are more than a 10-minute walk from your door.
---
Things To Do at Grafton Beach
If you can pull yourself away from the staggering beachfront, then you'll find that this diminutive island is packed with holiday bucket-list activities. Plus, because Tobago is so small, you can get some serious exploring done.
From Man O War Bay in the northeast to Crown Point in the southwest, you can probably drive around the island in under 3 hours. So why not get an itinerary planned and see the whole island?
Ask at the front desk about hiring a car for a couple of days and plot out your adventure. The island capital of Scarborough is just 15 minutes away by car. Elsewhere, two other top spots, Turtle Beach and Pigeon Point are just a 20 or 10-minute drive from the resort.
There are scuba diving and golf facilities nearby too. The world-famous Buccoo Reef dive site is 20 minutes from your door. Plus, the Tobago Plantations Golf Club is just 15 minutes away.
---
Book Your Bargain Tobagan Escape Today
What makes this affordable escape even better is the fact that it will only cost you £150 to get it on the books, thanks to our super-low deposits.
Click the button below to start building your free online quote for this affordable Caribbean escape today.
Get some unforgettable sunshine on your horizon for 2023, without breaking the bank.