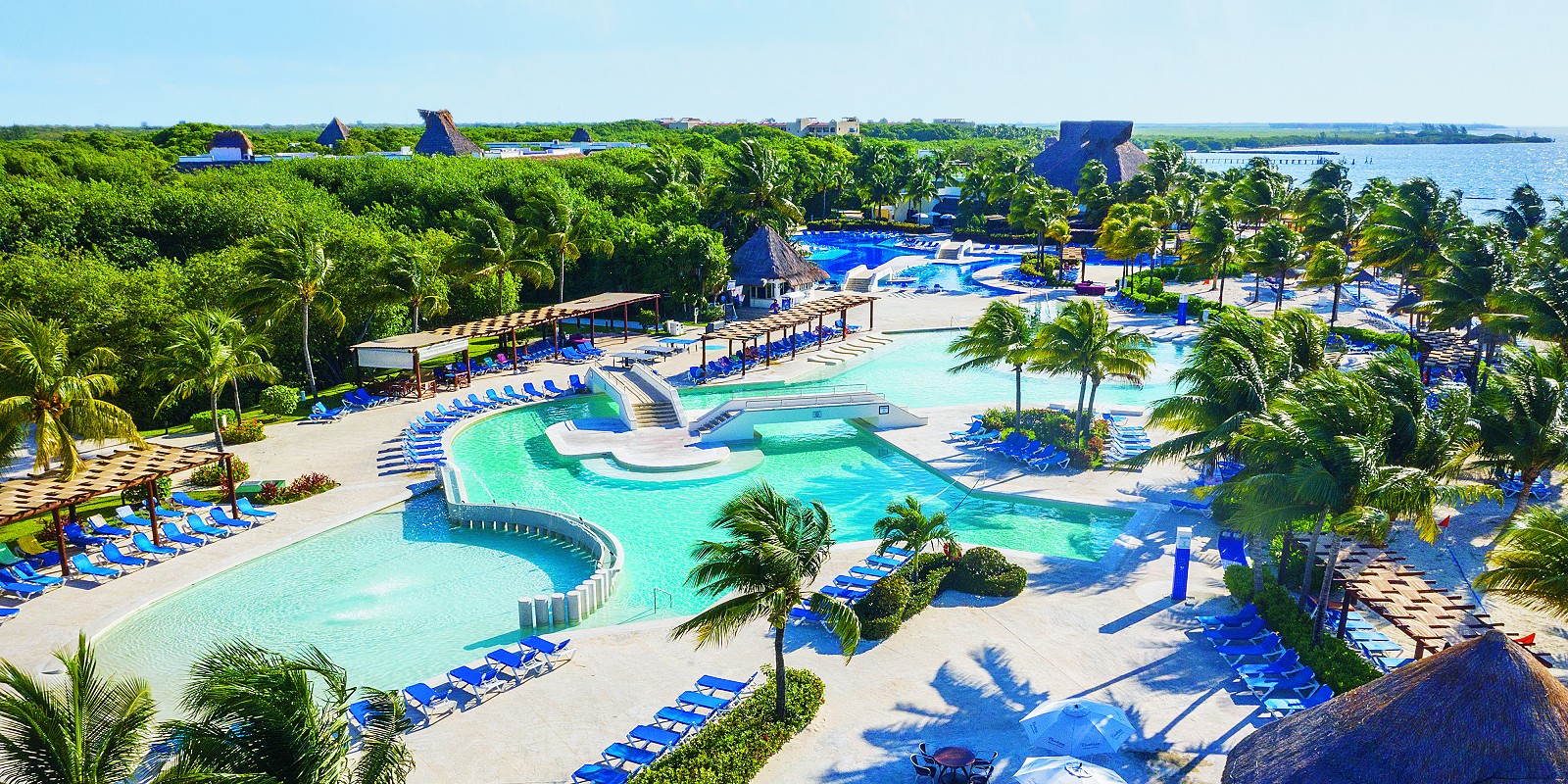 It's a high-end paradise under the Mexican sun. But what else do you need to know about incredible BlueBay Grand Esmeralda?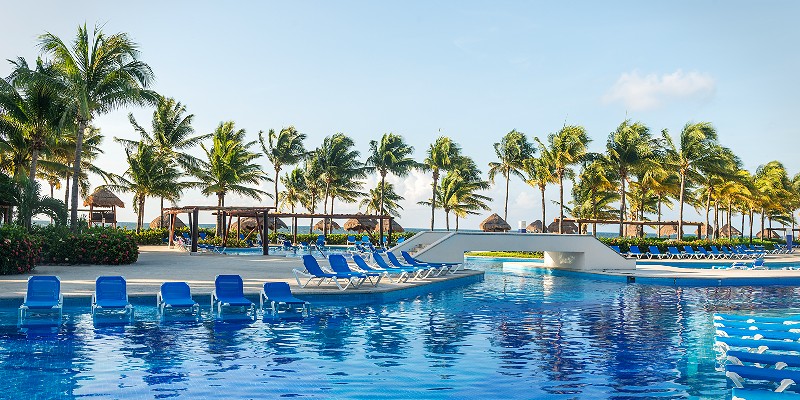 Looking for a sun-soaked five-star escape in Mexico for your next adventure? BlueBay Grand Esmeralda Resort has something for everyone.
This stunning resort is backed by lush greenery and spills out onto the white sand of a beautiful beach.
But there's more going on here than just fabulous scenery. Let's jump in and tell you more about what to expect.
---

---
Resort Overview
Perfectly positioned on Mexico's dazzling Caribbean Sea coastline. Blue Bay Grand Esmeralda offers 3 pools, 6 restaurants, 2 bars, a spa and fitness centre, as well as a host of other activities.
What else could you want from a sun-soaked escape in one of Mexico's most popular locations?
How about being just 10 minutes from Playa Del Carmen and access to a super-engaging kids club? We told you there was something for everyone!
But, before we learn more about those marvellous amenities, let's tell you more about that dazzling location.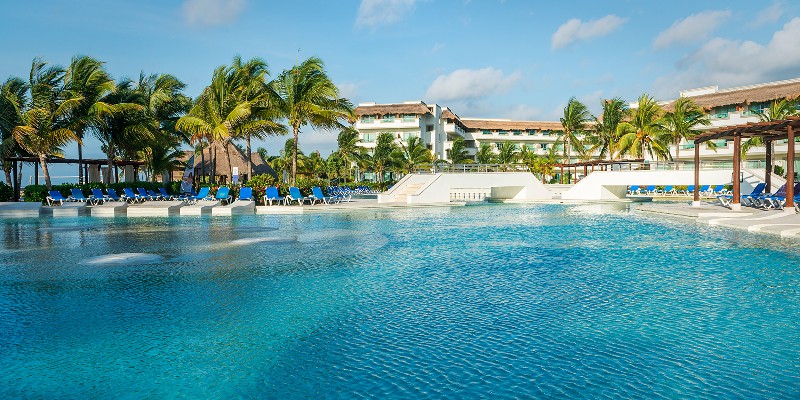 ---
Where is BlueBay Grand Esmeralda?
Located in the popular Riviera Maya area of Mexico. BlueBay Grand Esmeralda makes the most of this staggering destination by placing its toes in the sand and the jungle at its back.
In front of you, you'll find 500 metres of private soft white sand. Meanwhile, behind you sits miles of greenery, mangrove swamps and other wildlife hubs.
Another bonus of the resort's positioning is its locality the best things to do in Cancun, Cozumel and Playa Mujeres. It's just over an hour from Cancun and around 2 hours from the island location of Cozumel.
So, what's it like inside?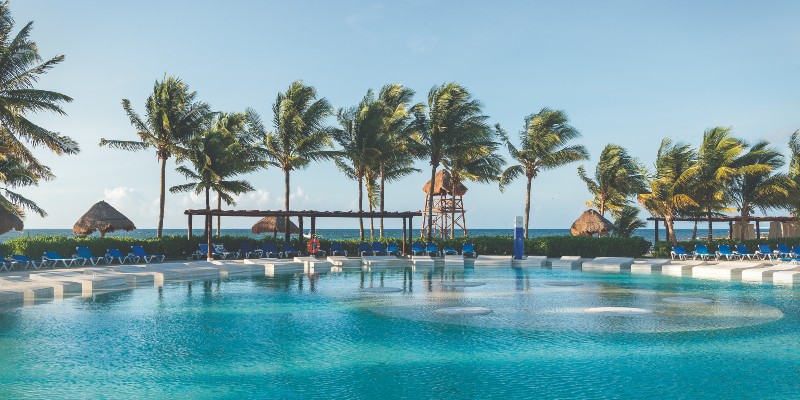 ---
What is the Accommodation Like?
When you step inside BlueBay Grand Esmeralda you'll be taken aback by the modern and spacious areas. These themes continue up into the accommodations.
Each room benefits from a host of high-end amenities while offering staggering views out over the green or white and blue landscapes – depending on which side of the resort you're on.
Starting with a Deluxe Garden Room and culminating in an opulent Swim Up Suite Garden View. The rooms offer everything from Jacuzzi baths to private balconies and more. A comfy night's sleep is guaranteed in all though.
---
Grab Our Latest Offer
Don't worry about those other room categories. If you sign-up & bag a stay at BlueBay Grand Esmeralda in our Big Blue Sale, you'll get upgraded to a Deluxe Ocean View Room all-inclusive from just £1,199 per person.
---

---
How Many Restaurants are There at BlueBay Grand Esmeralda?
BlueBay Grand Esmeralda boasts 6 restaurants which have the ability to transport your senses around the world.
Choose from stunning Japanese, Italian, French and, of course, Mexican cuisine, as well as sumptuous seafood and lip-smacking steaks. That should be enough to sate any hunger pang.
However, because you're so close, you could also take the chance to head to Downtown Cancun and see what other authentic delights are on the menu.
Meanwhile, Lounge Bar Nocturno and Bar de Playa will take care of all the drinks from morning to night.
---
What is There To Do at BlueBay Grand Esmeralda?
So, now you know about the resort location, accommodations and cuisine, it's only right that we talk activities.
Whether you like to kill an hour with a game of tennis or split up your lounging with longer excursions, you have the option here. From giant chess to wine tasting, it's all on offer.
Sports lovers will relish the opportunity to try their hand at a plethora of games including booking in a round at nearby El Camaleón Mayakoba Golf Course – the first PGA Tour course in Latin America.
Alternatively, for those who prefer to fill their stay with relaxing vibes, if the beach and 3 pools aren't soothing enough then take a trip to the resort spa.
---
Are There Any Family Activities?
Elsewhere, there are also a host of adventures ready and waiting for your little explorers.
A specialist kid's club is dedicated to providing a fun, engaging and developmental space for little ones to thrive.
The resort's specially trained club staff are able to deliver an itinerary based on having fun and learning more about their surroundings.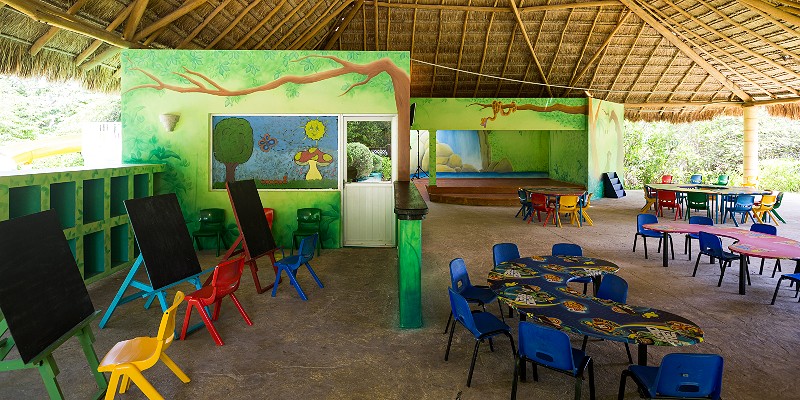 ---
Book Your Mexican Adventure Today
As you can see, there really is no reason not to get a Mexican adventure on your horizon this year.
Give our team a call on 0844 644 8351 for more information. Or click the button below to get started building your free online quote today.